Q1 To have your fans know about you more, will you tell us your biography and discograpy?
A Please visit my website for the bio and discography.. which is http://www.truspace.com


Q2 You seem to play in New York often. Do you also play in Korea regularly? Please tell us about your activity.
A Of course, I have my loyal fans in Korea, and I do play in Seoul regularly about once a year at a beautiful concert hall... I just played there in April at Seoul Arts center Concert Hall with Bob James and my band for 2600 people....


Q3 You have played with Toninho Horta several times. How did you getto know Toninho?
A I met Toninho through our mutual Friend, percussionist Valtinho, who was playing at the time with Astrud Gilberto with Toninho as a special guest..
Before, I met Toninho, I was a big fan of his music, and after we met, we immediately hit it off and became good friends, I invited him to play on my record,Magnolia Blossom (it is also on the bonus track on "message.."album) in 1992, and after that we have done a lot of playing together, as well as recording in Seoul, Tokyo, Brazil, and Moscow, and NY...
Now, he is like my big brother, and we have fun everytime we get together....


Q4 Will you tell us about your album "Message from Paris"? Where and when did you record the album?
A Recorded in NY during 97--99


Q5 In the album, Toninho, Charles Blenzig and Chico Freeman are well known player, but we don't know about the other members. will you introduce them?
A I met Norihito Sumitomo in 1993 during Takeshi Ito's Recording session, and he is one of my favorite Japanese musician/arranger.. and David Dyson is an accomplished Bassist who used to be musical director for the pop group 'New Kids on the block" and also used to play with Terumasa Hino's band,, My regular band features David Dyson, Norihito Sumitomo, and Billy Kilson on Drums who now also plays with Larry Carlton, Dave Holland, and Bob James


Q6 Will you tell the concept of the album?
A Please see answer to question 8..But basically the concept is "Romantic, Reminiscence, and Adventurous"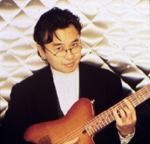 Q7 In the 2nd song of the album "Patient of Eden", you have choruspart that souds like Japanese traditional folk song for us. Where did you get the idea from?
A It is actually a sample of choir from a east european countries.. i think maybe hungary...this sample is made by my good friend Norihito Sumitomo, who I met during Takeshi Ito's recording session in 94, and we became good friends and we have kind of similar tastes in music, and music making... I love this song, and especially the bridge part..


Q8 Will you tell us your comments or episodes about each song in the album?
A This Cd, unlike any of my other ones, is recorded over a period of two and half years,
I was not planning a new record, but they just happen to be a collections of songs recorded at my home-studio.. so I was more involved in making the cd:arrangement, production, programming and etc.. and they all reflect the moments of my life over this period, which I would describe as kind of "Romantic" and "adventurous".. so in that way, it is more 'personal' Recordings than any of my other cds..
For my next project, though, I would like to have more "live" feeling interplay type of recordings with my favorite musicians...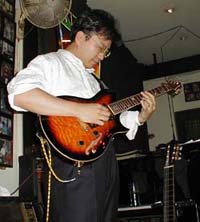 Q9 Which song do you like best yourself?
A Well, that's a tough question, because, everytime I feel, that after I release a cd, I move on to the next project, and I do not listen to the cd for a while.. I have already departed from the "message from Paris' mood...
but every song in the cd has a special place in my heart when i was playing and recording them,.. and I feel "natsu-ka-shi" (reminiscent) about the song Cheju-do, and Magnolia blossom because those are the two bonus songs from my very-first and second CD released in 1991..


Q10 The last question. Do you have a plan to play live in Japan?
A last time I played in Japan under my band's name is in 1992 or 1993 at the pit-inn club, and after that, I toured all over Japan with saxophonist Takeshi Ito, as a special guest, after I produced a couple of his CDs for east-west Japan label. that was 94..
But since then, I did not have opportunity to perform in Japan, but I was doing some recordings with my good friend, Norihito Sumitomo..
Yes, Bob James and I are trying to plan to do a special project show some time at the end of this year.. Also, I hope I can bring my band to do a show as well.. I love japanese audiences, and I know, I have some great fans of my music..

Thank You very much ! !